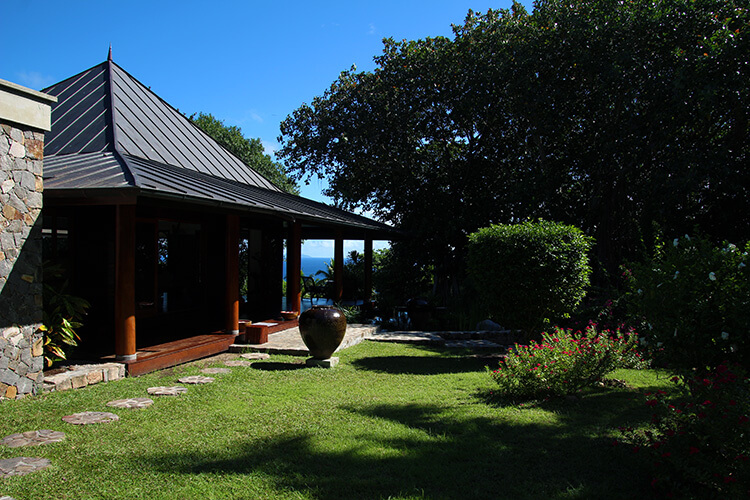 Have you ever been somewhere so unreal and beautiful, that after the trip was over you wondered if it was all a dream? If we didn't have the photographic evidence of me and Tim being whisked away to a remote private island in a helicopter, or the video of a giant Alabra tortoise chasing me down for my iPhone that he thought was starfruit, or the pictures of floating in the clearest water we've ever seen, we just might have thought it truly was all a dream. This is Fregate Island Private.
Where is Fregate Island?
Seeing as only a measly 2% of the Seychelles foreign visitors are Americans each year, we'd be willing to bet you couldn't find the Seychelles on a map. Or you might not have even known it's a country. And that's okay – I'll let you in on a secret; we probably hadn't heard of this island nation either until we visited the Maldives back in 2012.
After all, Seychelles – as this Indian Ocean island nation is now called – is a relatively new country. It was only discovered 300 years ago. Pirates were the first inhabitants in the 17th century and then it changed hands between the French and British up until Seychelles gained its independence and officially became its own independent nation in 1976.
Seychelles sits about 1000 miles off the coast of Kenya and northeast of Madagascar, about 4° south of the Equator. It's made up of 115 islands, one of which is Fregate Island.
Located 35 miles and just a 20-minute helicopter flight from the Seychelles' capital, Fregate Island is the most remote of the Seychelles Granitic Inner Islands. The island was named for the abundance of frigate birds found there on an expedition by French explorer Lazare Picault in 1744.
The Resort
When French explorers landed in Seychelles in the 18th century, they found a positively primitive group of islands inhabited by prehistoric trees, exotic birds and giant tortoises that would shrink back in to their shells. If there was a true eden on Earth, Seychelles was it.
Seychelles are the only mid-ocean granitic islands on Earth. Once part of Gondwanaland, the islands are the scraps that broke off and continued to drift when India broke off the super continent. That's basically a fancy way of saying that Seychelles are truly unique with a plethora of flora and fauna found no where else on Earth.
Up until the 1970s, the primary economy of Seychelles was plantations and more than a third of the island's population was employed by plantations. The first colonists, the French and their slaves, grew spices like cinnamon, chili peppers and cloves. Cotton and sugarcane would follow, then eventually coconut plantations even later.
The indigenous flora were either cut down or choked out by invasive species to create the plantations. Three hundred years of human settlement has taken its course on these islands, and some species have gone extinct while others are in perilous danger of doing so.
With the opening of the international airport on Mahé in 1972, Seychelles main economy began to change from plantations to tourism. And in the case of Fregate Private Island, tourism is a very good thing.
Opened as a passion project as a way to fund the conservation and restoration of Fregate's native habitat, Fregate Island Private is otherwise uninhabited aside from the resort with 16 luxury villas that can accommodate an exclusive 79 guests.
The island is basically self-sustaining. The two restaurants are supplied with the fresh catch, native fruits and spices that grow on Fregate and more than 50 other types of fruits and veggies that are grown in the island's greenhouses – the excess is even sold to other hotels on the main islands. There's a water plant and generators for electricity. A medical clinic serves the 150 staff that call the island home, along with any guests that may need it during their stay. A helipad and a dirt runway serve the Fregate Airport, and there's a harbor where boats are controlled to ensure Fregate remains pest free.
The Villas
As the helicopter gently sets down on the helipad, a team of staff including your personal butler is already waving and waiting with refreshing towels and cool drinks. And before you know it, you're being whisked off in the golf cart that will be your vehicle for getting around Fregate Island to your villa.
There are 16 villas all spaced far enough apart that you feel like you're on an island all your own. In fact, aside from when we went to the restaurant for breakfast or dinner, we actually never saw the other guests despite all the villas being full.
Once you step foot in your private pool villa, you start to understand why. It's a place you don't want, or even need to leave.
A central indoor dining and entry separates the two main areas of the one bedroom private pool residences, which can accommodate two adults and two children. Our villa was tucked in to the lush jungle, with views from the sliding glass walls and terrace of the azure ocean and other islands like Praslin and La Digue dotting the horizon.
On one side, the bedroom with king size bed draped in mosquito netting sits in front of a bathroom with separate toilet room, huge double sink vanity, a bath big enough for two, indoor walk-in shower and an outdoor shower that leads right in to the indoor shower. There's a tv with 150 channels, though we never even turned a tv on while at Fregate Island Private.
The cozy living room sits on the other side of the house, with another small bathroom and outdoor shower. The mini bar is fully stocked with sodas, water, beer and rums made locally at the Takamaka Rum Distilleryon Mahé. Mix up some rum cocktails, or take the bottles of white and coco rum home – they're your gift. And for the wine lovers, there's a dual climate controlled wine fridge stocked with wine from France, Italy, Argentina and South Africa. Snacks like cookies, brownies and wasabi nuts are restocked daily. Plus, there's a Nespresso and tea making supplies.
The massive terrace has the largest personal infinity pool we've ever had, and we've stayed at quite a few private pool villas around the world. A separate jacuzzi, which can be enjoyed hot or pool temperature sits at the edge of the infinity pool. An outdoor daybed sits like a perch over the swaying coconut palms on one side, and an outdoor dining gazebo on the other.
Each guest also receives a flashlight, which definitely comes in handy for walking down the steps to the restaurant at night.
On Fregate Island Private, there's no need for villa keys and you won't receive one. Though the sliding glass doors all do lock if you feel more comfortable locking yourself in at night. There is a safe in the villa for securing any valuables that you like. But the only intruders you'll experience are the occasional giant millipede (also an endangered species, but totally harmless) that worms his way in through the thatched Balinese roofs or the geckos.
Your villa comes with your own buggy to get around the island. We appreciated that a magical buggy fairy seemed to appear everywhere to turn the buggy around so that we never had to back out, plug it in to charge it up and leave cold bottles of water and fresh flowers in the cup holders.
Experiences
We've stayed on a number of private islands now, and there isn't honestly a lot to do beyond beach, diving or snorkeling and water sports like kayaking or stand-up paddle boarding. That couldn't be farther from the case on Fregate Island Private.
We stayed four days and left wishing we had more time. Between diving and all the on land activities, we kept ourselves quite busy and still didn't manage to do it all.
Meet James
Fregate Island is without-a-doubt one of the most beautiful places we've ever been. But as gorgeous as the beaches are, it was the thousands of Giant Aldabra Tortoises that roam freely about the island that stole our hearts.
They're everywhere, even having to be chased off the the grass runway when small planes land. They come in every size from ones small enough you could probably pick them up to the 150 year old giants easily standing 3-feet tall.
Most comically pull their heads and limbs in to their shell at even the sight of you that you can't help but smile. Many show their displeasure at your presence with a hiss like an angry cat. Others just couldn't care less that you're there and continue ambling on by, munching on the grass or even getting busy with the lady tortoises.
But there are a few friendly giants. James, one of the oldest and largest, is known to be friendly. And he's smart, regularly hanging out near the Plantation House where he knows guests are sure to stop by and feed him some starfruit. He even has his own box stocked with starfruit and labeled "Goodies for James."
He does disappear on walkabouts, sometimes up to a month at a time. James was probably on one of his walkabouts, because we didn't get to meet him during our four days on Fregate. But he also has some friendly friends that are more than happy to let you give them a pat on the head.